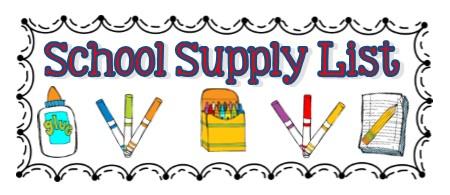 Dear 2nd Grade Students and Families,
Welcome to 2nd Grade!! This year students will enhance their reading, writing, and math skills. The children will prepare for the sacraments of Reconciliation and Communion. We work together to make our classroom a nurturing and supportive learning environment. The children are learning to be more independent and make the bridge from learning to read to READING TO LEARN. It's hard work, but it's also a lot of fun! Second Graders love to learn!
I look forward to a fun and successful year ahead. Please make sure to have the following supplies for the first day of
school. Please label all supplies with name and class.
7 marble notebooks ( wide ruled, marble notebooks)
Label all notebooks with your child's name and the subject for each notebook
1.- Social Studies/Science
2. Religion
3. Math
4. Weekend Journal
5. Reading Comprehension
6. Grammar/Phonics
7. Spelling
● 2 Flat double sided folders ( horizontal openings)- label child's name and one folder Homework and the other folder Classwork
● 1 dozen sharpened pencils & 2 erasers
● 1 soft pencil case( put pencils in case)
● 1 box 16 or 24 count crayons ( Crayola only)
● 1 pack of washable markers (Crayola only)
● Scissors
● 2 large glue bottle
● 2 large glue stick
● 3 packages of white computer/ copy paper
● 1 package of 9 x 12 construction paper
1 packages of 12″x 18″ construction paper
● 2 boxes of tissues & 1 roll of paper towel
● 1 large bottle of hand sanitizer & 1 container of Clorox/Lysol wipes
2 HIGHLIGHTERS
headphones- in a zip lock bag labeled with your child's name
****MAKE YOU SURE YOU LABEL EVERYTHING WITH YOUR CHILD'S NAME****

Christian Basdeo is the Student of the Month for May!!
Christian has shown great perseverance these last months of remote learning. He is conscientious with completing all his assignments on time. He is an avid participate in our daily class meetings. I am so proud of you and how you have effortless adjusted to this new learning.
Mrs. England's Page
You can reach me at cengland@incarnationqv.org
l
https://orders.scholastic.com
Class Code: Q9XNR
Growth Mindset ways to help your child!!!!
TALK ABOUT IT
Talk with your child about his or her day, but guide the
discussion by asking questions like:
– Did you make a mistake today? What did you learn?
– What did you do that was difficult today?
Instead of saying, "You're so smart!"
praise effort, goal setting, persisting
through challenges, or being creative.
You can say something like:
– "Wow! You must have worked
really hard on this!"
PRAISE THE PROCESS
THE BRAIN CAN GROW!
Remind your child that his or her intelligence is not fixed.
Remind him/her that when things are difficult, her brain grows if she
persists through the challenge. Each time he/she learns something
new, his/ her brain is making new connections. Your child needs to
know this is possible!
ENCOURAGE FAILURE (say what?!)
HELP THEM CHANGE THEIR DIALOGUE
The way your child talks to himself makes a huge impact on his
mindset. If he says, "This is too hard!" help him change that to
"I can't do this yet, but I will keep trying." Give him the words to
say when he is feeling defeated by modeling it yourself!
Your child needs to know that failure can (and often
does) happen and it is okay! Remind him/her that each time
he/she fails and tries again, her brain is growing stronger!
Don't step in to prevent your child's failure – this is how
he/she learns to persevere in the face of challenges.
____________________________________________________________________________
Below you will find some of the topics that have been covered in the different subjects.
Reading- Charlotte's Web
L.2.1

Demonstrate command of the conventions of standard English grammar and usage when writing or speaking. [9 lessons]

L.2.2 Demonstrate command of the conventions of standard English capitalization, punctuation, and spelling when writing. [13 lessons]

L.2.2b Use commas in greetings and closings of letters. [2 lessons]

L.2.2c Use an apostrophe to form contractions and frequently occurring possessives. [2 lessons]

L.2.2d Generalize learned spelling patterns when writing words (e.g., cage -> badge; boy -> boil). [4 lessons]

L.2.3 Use knowledge of language and its conventions when writing, speaking, reading, or listening. [1 lesson]

L.2.3a Compare formal and informal uses of English. [1 lesson]

L.2.4 Determine or clarify the meaning of unknown and multiple-meaning words and phrases based on grade 2 reading and content, choosing flexibly from an array of strategies. [3 lessons]

L.2.4d Use knowledge of the meaning of individual words to predict the meaning of compound words (e.g., birdhouse, lighthouse, housefly; bookshelf, notebook, bookmark). [1 lesson]

L.2.5 Demonstrate understanding of word relationships and nuances in word meanings. [5 lessons]

L.2.5a Identify real-life connections between words and their use (e.g., describe foods that are spicy or juicy). [2 lessons]

L.2.5b Distinguish shades of meaning among closely related verbs (e.g., toss, throw, hurl) and closely related adjectives (e.g., thin, slender, skinny, scrawny). [1 lesson]

L.2.6 Use words and phrases acquired through conversations, reading and being read to, and responding to texts, including using adjectives and adverbs to describe (e.g., When other kids are happy that makes me happy). [3 lessons]

RF.2.3 Know and apply grade-level phonics and word analysis skills in decoding words. [20 lessons]

RF.2.3b Know spelling-sound correspondences for additional common vowel teams. [17 lessons]

RF.2.3f Recognize and read grade-appropriate irregularly spelled words. [2 lessons]

RF.2.4 Read with sufficient accuracy and fluency to support comprehension. [9 lessons]

RF.2.4a Read on-level text with purpose and understanding. [6 lessons]

RF.2.4b Read on-level text orally with accuracy, appropriate rate, and expression on successive readings. [9 lessons]RI.2.1 Ask and answer such questions as who, what, where, when, why, and how to demonstrate understanding of key details in a text. [13 lessons]

RI.2.2 Identify the main topic of a multiparagraph text as well as the focus of specific paragraphs within the text. [2 lessons]
Math—- Chapter 8 Measurement
________________________________________________________________________________
Upcoming Tests:
_________________________________________
*** All Students should have an independent reading book for DEAR Time (Drop Everything And Read)****
_______________________________________________________________________________

Please refer to class dojo for any assignments